We began our project in 2001 and finished the second phase in 2004. Our intention is for nature lovers and golf enthusiasts alike, to discover this exceptional vacation spot.
A single place in Quebec where the river and golf co-exists. This type of environment is not found anywhere else.
People who visit us return each year and it is with a renewed pleasure and the same passion that we accommodate them. Our sincere desire is to make your time with us unforgettable.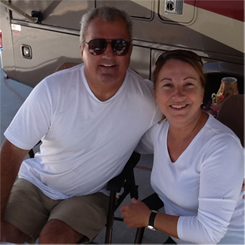 " Looking forward to welcoming you soon "
Sylvie & Jean-Yves
Proud owners