NEW IN 2016
Électricité 50 ampères
Navette fluviale (Bécancour/Trois-Rivières)
Service de taxi (centre-ville Trois-Rivières)
Amphitéâtre Trois-Rivières (spectacle du Cirque du Soleil)
---
Services
• Sewer
• Aqueduct
• Electricity (30 amp)
• Wireless internet
• Patio in close(plain) pavement
• Table of picnic
• Home(Foyer)
---
Tourist attractions
• Godefroy Golf Course - Service of shuttle from the site
• Inn Godefroy - Packages available "Table d'hôte"
• Godefroy market - accessible in bike
• In 5 minutes of Trois-Rivières - service of shuttle for the cyclists
• Asphalted cycle track and multi-functional path of the Seigneurie Godefroy
• Cycle track " The green road " from the site


www.becancourtourisme.com
---
Daily Rates
10 % of discount for Members of the FQCC
Days : $ 59 and $ 65
(15% discount from Monday to Thursday)
Week: $ 340

Arrival : 14h
Departure : 14hh

Taxes are not included - Prices are subject to change without prior notice.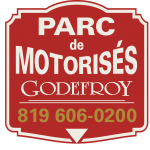 MASSAGE AT THE WATER'S EDGE (on chair) during the beautiful season (price lists on request).
" Our site is exceptional being situated between the River St-Laurent and the Godefroy Golf Course. Our rest areas, our environment and sunsets allow a ressourcement guaranteed in each of our visitors ".
Our infrastructures (the street and location) were built with "foresight" in order to allow classes (ABC) of motorized vehicles to easily park and move around without inconvenience. We offer complete services (Water, sewer and electricity) with the possibility of accommodating 19 guests. Each site is 30X80 feet. A cedar hedge gives you the feeling of being at home as soon as you arrive. In addition, each site has extra parking for your car, a rest area with picnic table, a lamp post as well as an outside fireplace, which allows you to enjoy the beautiful summer nights as much as possible.
You are likely to find in this oasis, a small artificial lake with water jets, where we installed a swing set and patio accessories for your relaxation and/or sharing moments if you wish. Our sunsets became a tradition, this, from summer to fall, at the Laviolette bridge gives you an unforgettable view and leaves no one indifferent.
From the site, you directly have access to the Golf Course and the cycle track (the green road) Also, Godefroy Avenue which surrounds the golf course gives unquestionable charm all year round, for walkers without forgetting the ecological park which allows an excursion in the forest.
The Godefroy Carry-Out offers breakfast and lunch and the reknown Godefroy Inn offers its fine cuisine, and this, only a few steps from our place.
For every nature lover and all that is done here in Quebec, you will love our area. "La Boutique l'Angélaine" is a great example, with its guided tours and it is with their passion that it brings us in this unknown world of Mohair. Godefroy Market with its products of the land and Cheese Dairy "L'Ancêtre" make more than one person happy during this beautiful season.
On site, a Massotherapy Center with warm and professional services, offers the same criteria of cleanliness and discretion which are its main attributes.